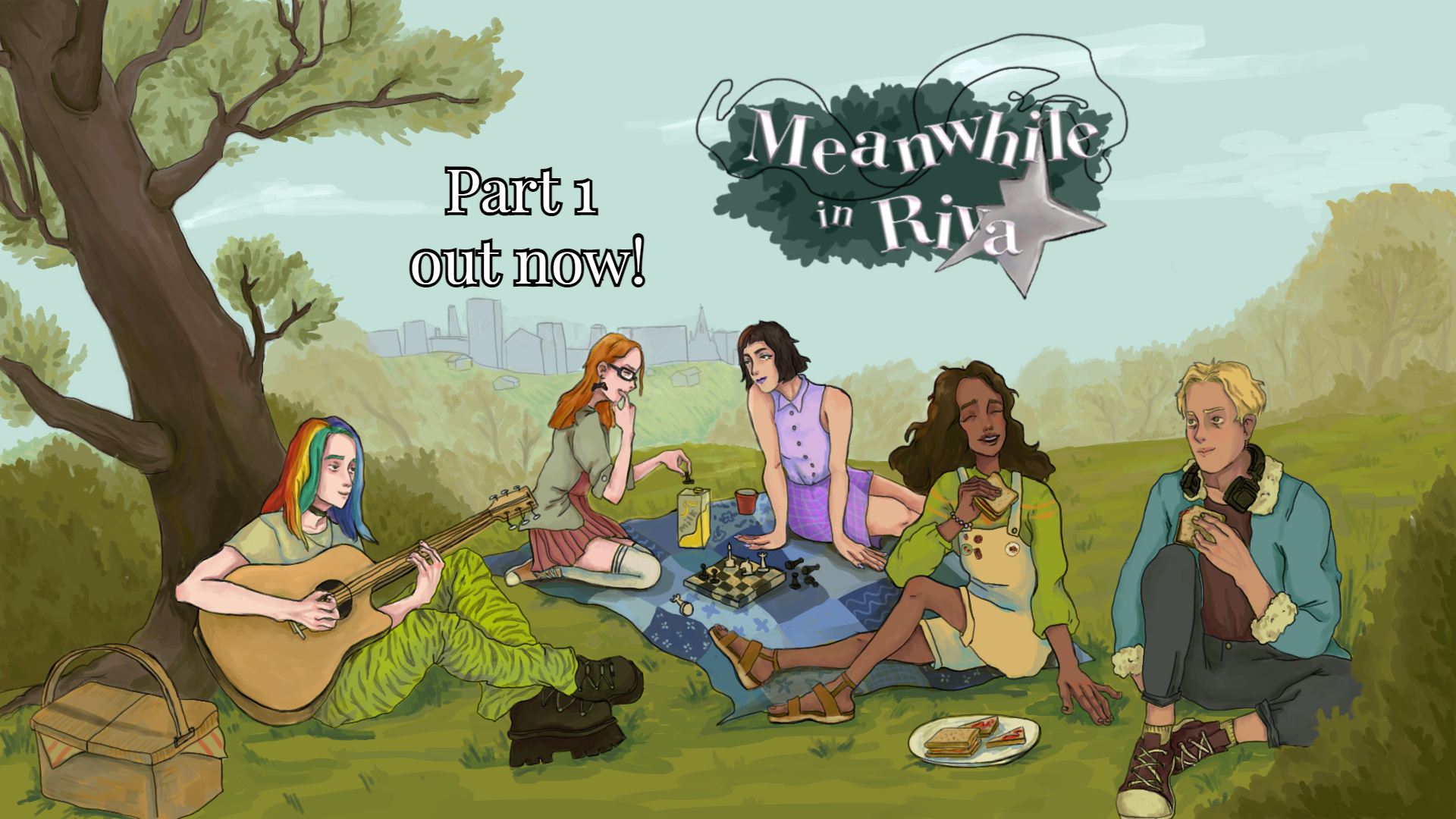 Meanwhile in Riva
Meanwhile in Riva (Part 1) - OUT NOW!
---
There's something strange going on in Riva City...
You're about to start your third year at Riva High School, and things are pretty normal... until they're not. Strange nightmares occupy your mind, and visions of a ghastly apparition make sure you're not getting much sleep. Things turn from weird to dangerous when it turns out that you're not the only one who's been seeing things. An absurd, scary and captivating story with large emphasis on player choice is about to begin.

Experience Meanwhile in Riva, a game that VN Game Den calls a visual novel to keep on your radar. Chances are you've never seen anything quite like it.
Part 1 (out of 3) is available now! Playable on PC, Mac and Linux.
Features:
* 35000+ words presenting a story full of twists, turns and character drama that keeps you guessing, alongside scenes of psychological horror and absurd humor
* Large focus on player choice: What you do matters and comes back to you in unexpected ways
* Optional side missions that play out differently based on what you choose to do
* High replay value: Select your name and gender, and then choose between nine different character traits, for a total of 27 unique combinations, all offering unique dialogue choices and story ramifications
* A cast of compelling characters that you can get to know and form relationships with - love or hate, it's up to you
* Play your way: Choose to enable or disable a host of different features, such as jump scares and permanent choices
* Unlockable gallery images, encyclopedia entries and multiple endings
* Original artwork drawn by hand, featuring fully animated backgrounds
* Smooth and beautiful Lofi Hip-Hop soundtrack
* Keep your save file and import it when the next part is released
* It's a sequel - find out what happens one year after A Day in the Life
Credits:
* Writing, programming and music: Andreas "Tymedust" Borgelind
* Artwork and GUI: Alisa Rozanchugova
* Additional music: Apol, Andreas Tryman
* Game trailer: UndeadLover
Files
Meanwhile_in_Riva-1.0-pc.zip
682 MB
Apr 22, 2022
Meanwhile_in_Riva-1.0-mac.zip
648 MB
Apr 22, 2022